Common Eyelid Issues (and how to fix them)
Like with nearly every part of our body, as we age our eyelids become susceptible to certain conditions – some are purely cosmetic but others can have a serious effect on vision and, as a result, daily life. In this article, we will be reviewing several conditions that often arise in patients as they age, and how these conditions can be treated.
Drooping Eyelid (Dermatochalasis & Ptosis)
Two of the most common eyelid complications our patients face are dermatochalasis and ptosis. Both involve drooping of the eyelid but the reason for the droop is dependent on which condition is the root cause. Dermatochalasis, the more common of the two, is commonly caused by age related loosening of the eyelid skin. Ptosis, a slightly different condition, is a result of the elevator tendon responsible for lifting the eyelid becoming loose. While our cosmetic clinic can temporarily improve symptoms using Botox injections, more serious cases require eyelid surgery to remove excess fat and skin, or tighten the tendon responsible for lifting the eyelid.

Asian Double-Eyelid Blepharoplasty
The typical Asian eyelid is anatomically different from a Caucasion one. Many Asian eyelids are monolid meaning they lack the fold or crease that naturally occurs in Caucasian eyelids. This makes the eyes appear smaller and changes the application of makeup on the eyelids.The procedure used to treat this is very similar to the treatment for dermatochalasis. In addition to the typical dermatochalasis procedure, the surgeon will create a crease in the patient's eyelid to give a more awake, alert, bright-eyed appearance.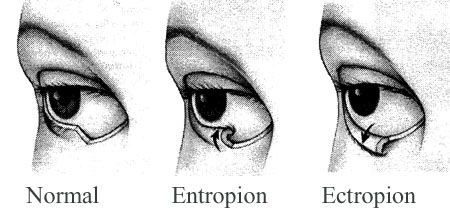 Ectropions and entropions are the result of the eyelid (usually lower eyelid) turning outward or inward respectively. When an ectropion occurs and the eyelid turns outwards, it can expose the area it usually shields underneath your eye allowing for air, dust, and debris to irritate it. Although this condition is usually not serious it can be extremely uncomfortable. In contrast, entropions (turning in of the eyelids) cause your lower eyelashes to continuously rub against the eye causing dry eye, pain, and potentially cornea damage, eye infections, and even vision loss. When dealing with either of these conditions, artificial tears and lubricating ointments can help to relieve symptoms but surgery is required to fully correct the condition.

Styes and chalazions are caused by clogged oil glands and can result in red, painful lumps around the edges of the eye. Styes are more painful and acute and can be treated initially by warm compresses. Chalazions are chronic and less painful. In most cases, styes can resolve on their own, but chalazions are more chronic. A doctor can inject corticosteroid and/or drain the lump surgically.

To learn more about other procedures we offer to treat age-related cosmetic issues, be sure to check out our Cosmetics Page!